London Barndance Picture Gallery
These were taken at the Halsway Manor contra weekend 8-12 April 2004:
These were taken by Kerstin Lankuttis on 12th June 2004:
The Big Band dance on 9th December 2006:

Anthony Bearon: Trombone/piano
Rachel Bearon: Concertina
Thomas Bending: Banjo/recorder
Judith Cooper: Fiddle
Ali Messer: accordion
Mike Green: Mandolin/mandola
Caroline Hollingshurst: fiddle
Dan Hollingshurst: piano/trumpet
Bill Keys: bones/whistle/sound desk
Colin Messer: Guitar/bodhran/whistle
Holly Norton: Fiddle/Piano
Robbie Thomas: Guitar

Movie clips
Most of these are on external sites.
London Barndance events:
Other events with bands and callers that we use:
To get a feel for what it is like to dance contra, try Doug Plummer's The Contra Dance on Vimeo
Here are some short movie clips that were sent to us from the USA by Richie Katz:
This is exactly the sort of dancing that you will find at London Barndance.
300 people gathered at Cecil Sharp House on 8th December 2007 for Fiddlin' Around's final performance. Malcolm, Andrew, Bob and Brian generated even more musical energy than usual: this was their 23rd appearance at London Barndance having made their debut at our event on 8th May 1998.
Rhodri Davies called the dances - mainly contras with a few other forms for variety, and even managed to fit in a grid square with over 200 people on the floor!
Photos by Stephen Webb:
Movies by Stephen Webb:
Note that these are very large files. You need a good broadband connection to view them
Fiddlegang
Brian Stone's latest project: three fiddles and an accordion, a fusion of musical styles, and great energy!
Here's a movie of Fiddlegang with John Meechan calling at London Barndance in January 2009.
Fat Harry
Mollie, Ali, and Vic: onstage at C# House with John Turner 11th June 2011
Here's a movie of Fat Harry with John Turner calling at London Barndance in February 2009.
London Barndance 300th event celebrations
A whole gallery for the event: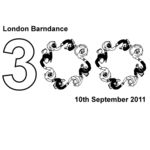 Mark Elvins and the Stringrays
Rodney Miller's New England band on tour in the UK, playing for us at C# House on 9th May 2015. This event has its own gallery page: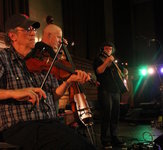 ---
The pictures on this page were taken by Andrew Findlay unless otherwise noted.