London Barndance History
London Barndance Company was founded in 1982 by Bernard Chalk, Tom Holloway, Jac Solomons, and Anne Willcocks to encourage the enjoyment of traditional music and dancing in all its forms.
Jane Curry and Andrew Findlay took over the organisation of events in November 1983, and with occasional help from a small group of supporters have been running things ever since.
With Bernard and Blue Mountain Band as the most frequent lineup in the early years, a 'mid-Atlantic' style soon developed and most evenings included a mixture of squares, contras and patter calls with one or two traditional English dances thrown in.
Many other well-known bands and callers have performed for us over the years. Particularly memorable ones include Arden Folk, Four-Leaf Clover, Kelly's Eye, Alterations, Hoedown and Mosaic on the music side, with John Chapman, Mark Elvins, Joe Hodgson, and Ken Bonner all making regular appearances as callers. From time to time we are able to welcome guest performers from the States, including Kathy Anderson, Henry Morgenstein, Mike Richardson with Claude Ginsberg & Julie King, Cis Hinkle, Scott Higgs, Notorious, and The Stringrays.
Since 2001, there has been an increasing emphasis on Contras and most of our events are now in this style.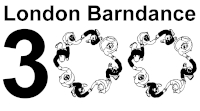 LBC 300
We held our 300th dance on Saturday 10th September 2011. This was quite a celebration, with a large audience and a birthday cake!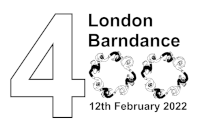 LBC 400
We held our 400th dance (not counting the online-only ones) on Saturday 12th February 2022. Jane baked another cake and Mark Elvins reminded us of a few dances that we used to do with Bernard Chalk and with John Chapman. He also wrote LBC CD (think Roman...) in honour of the event.
Programme History
Our complete programme history shows the line-up of bands and callers we have used over the years.
LBC Logo
The London Barndance logo shows 8 dancers doing the square-dance grand chain figure. We recently discovered that it derives from an illustration by Fran Tolman in a 1937 book called The Country Dance Book by Beth Tolman and Ralph Page. The Tolman family has been active in folk music and dance in Nelson (New Hampshire, USA) for a very long time, and we think Bernard Chalk might well have visited them on his tours of the States. The Tolman and Page book was almost unknown in the UK dance community until about 2015 so Bernard probably brought a copy back from one of his trips.
Interestingly, a series of books with exactly the same title was written by Cecil Sharp and Maud Karpeles between 1908 and 1927. When those books were reprinted in the mid-1970s, a very similar image was used on the cover - almost certainly also derived from Fran Tolman's original but modified rather more than the London Barndance version.